---
BEST PAPER AWARDS
ISQED committee will select up to three top papers based on the degree of contribution to the field of design quality, originality, the quality of the articles, and other criteria set by the technical committee. Best paper awards will be presented to the authors during the luncheon ceremony on March 27, 2001. All papers, except the invited papers, will be evaluated for the award.
Recipients of the ISQED 2000 best paper awards were as follows:
Zhanping Chen, Liqiong Wei and Kaushik Roy
for their paper titled: "On Effective IDDQ Testing of Low Voltage CMOS Circuits Using Leakage Control Techniques"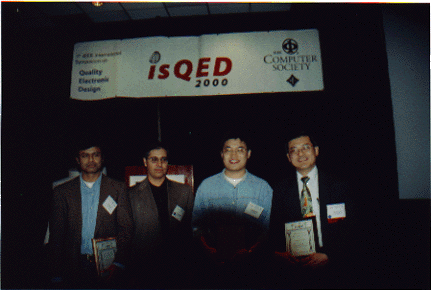 From Left to right:
Kaushik Roy, Ali Iramanesh, Zhanping Chen, Tak Young
Tomas Bautista and Antonio Nunez
for their paper titled: "Synthesis Experiments and Performance Metrics for Evaluating the Quality of IP Blocks and Megacells"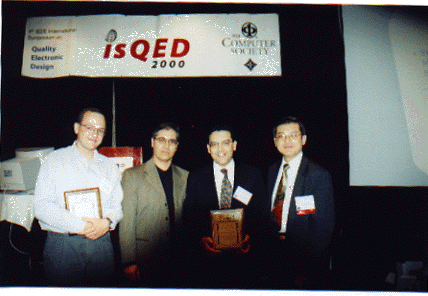 From Left to right:
Tomas Bautista, Ali Iramanesh, Antonio Nunez, Tak Young
Shen Lin, Norman Chang and Sam Nakagawa
for their paper titled: "Quick On-Chip Self- and Mutual-Inductance Screen"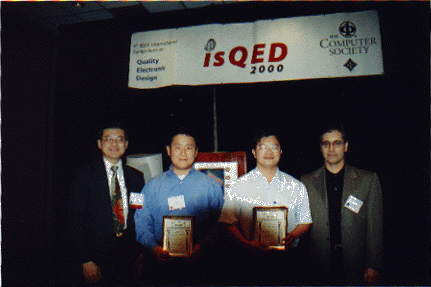 From Left to right:
Tak Young, Shen Lin, Norman Chang, Ali Iramanesh
---